A few months back when I first found designspongeonline.com I saw a really neat family tree print that they featured from  mytreeandme.com and decided to order one for Christmas. I got on ancestry.com and started searching for my relatives and I think it opened up a whole new part of me. I have always been the "historian" of the family, wanting to know stories from the old days from Grandma and my parents and then it hit me about a month ago to make a whole wall of old family photos in my  farm themed guest bedroom and I haven't stopped searching for old photos yet! I have scoured garage sales for the last 2 weekends just looking for old frames that I could spray paint white and then distress and I have found about 25 frames and only spent around $15 on them all! Garage sales are a goldmine for frames! Here are the steps to do this yourself…
– Photograph old pictures that you would like to display with a macro lens in bright shade at f/5.6.
– Open them in photoshop and make them an old timey b/w and then print.
– Search garage sales for old frames of any color, but mainly focus on their size and texture. Spray paint them a flat white or any color you choose.
– Get 60 sand paper and rough them up on the edges.
– Put your prints in them and hang them all together!
I have only started on my side of the family and still have about 15 frames to fill. They will be displayed in my farm room at the new house in Stillwater and you can guarantee that I will show you the end result!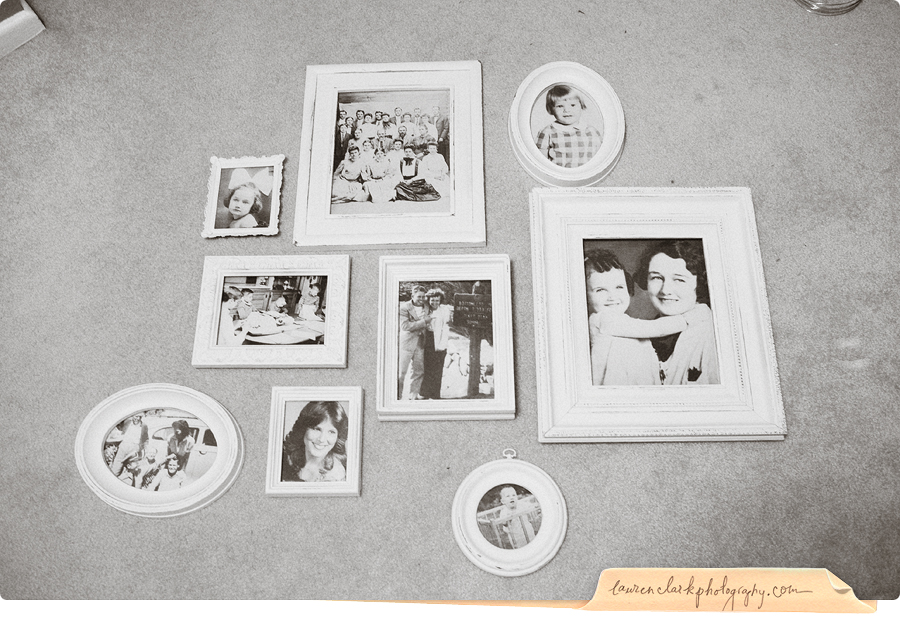 From the top left going clockwise… 1) My great Nana, Dorothea Macomber 2) The Gannoway Family, my great grandmother is on the bottom right 3) my mom's baby picture 4) My Nana and great Nana 5) my dad's baby picture 6) Mom's senior pictures (sorry mom! Had to post it) 7) Granddad getting his hair pulled by his brother 8 ) Dad and his brothers making a newspaper 9) In the center is grandma and granddad.